You can choose your preferred delivery date/time in the "Delivery Date/Time" section of the checkout page. There will be no deliveries scheduled between 6pm - 7pm as this timeslot is set aside for vehicle loading at the FortyTwo warehouse.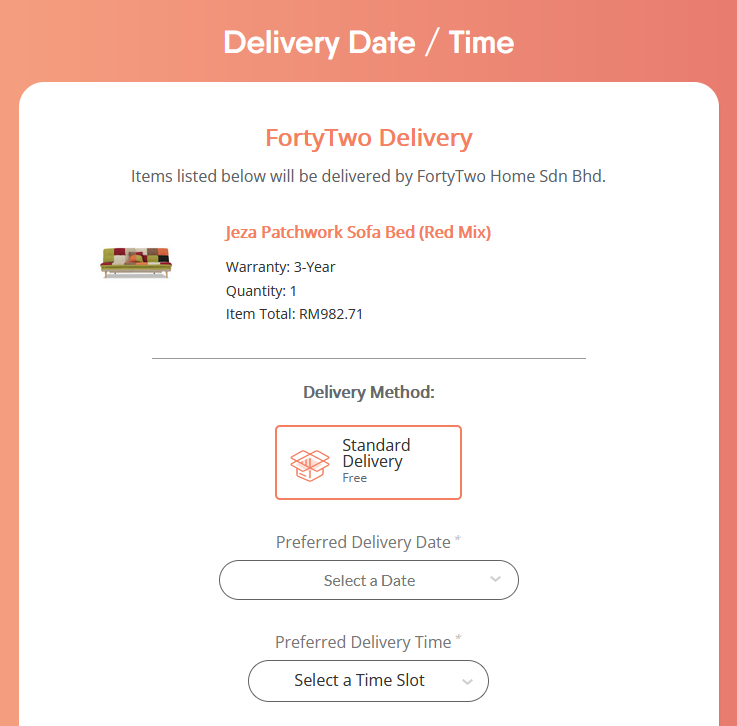 The estimated delivery time for your order to be delivered to you depends on the area zone of your delivery address. You will receive an SMS from FortyTwo at least one day before the date of delivery to notify you of your confirmed delivery time.
The delivery date/time that you have chosen serves as an indication only of your preferred delivery timing to FortyTwo and is rarely subjected to change. However, FortyTwo will endeavour to fulfil your order according to your preferred timing on a best effort basis but cannot guarantee that it can always be met. Should FortyTwo face difficulty in fulfilling your order within your preferred timing, you will be contacted the day before your preferred date of delivery to notify you of any change to the preferred date or time that you have chosen.